Remember that when you buy your OCEANBEAT ticket, you are not just receiving a boat party: you are receiving a PACKAGE. Think of OCEANBEAT as a goody bag. Our team likes to throw in a few extra FREE club entries to save you a bit of dough throughout your holiday. We know better than anyone just how ruthlessly expensive Ibiza can be…
Havinb been working the cranks of the island for almost ten years now, OCEANBEAT can offer you free entries to Ibiza's most iconic clubs. Choose THREE from clubs like: PRVILEGE; AMNESIA; EDEN; ES PARADIS; USHUAIA; HEART; BLUE MARLIN; BENIMUSSA.
On account of Ibiza's dynamic rhythm, the weekly schedules of club entries we can offer is ever-changing. New parties are added to the list every week. So you can feel like a kid n a candy store and grab what you want. The more colourful, the better. Get in contact with our hotline +34628944809 to find out the exact deals that we offer during your stay here on the White Island.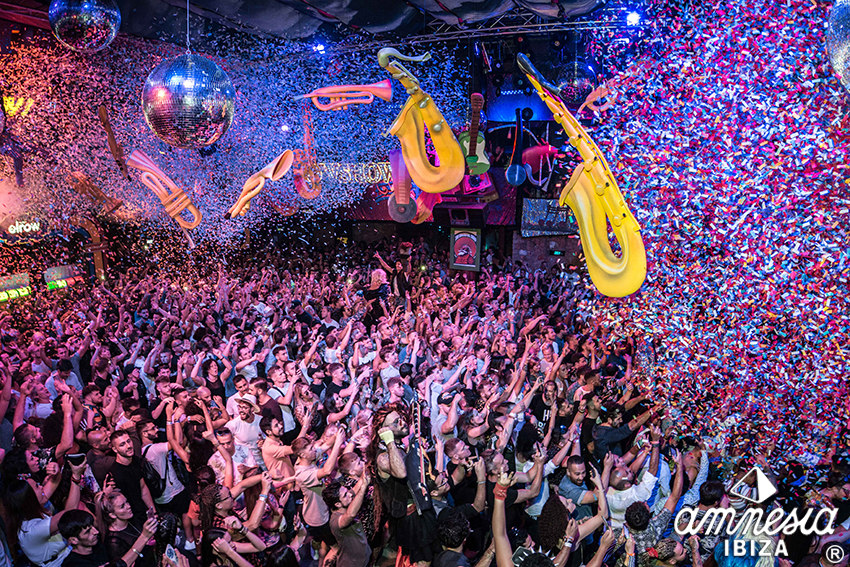 AMNESIA
Amnesia is one of Ibiza's most exemplary clubs, covering all the bests of Latin, techno, house and bass. The club is less than one kilometre from Privilege and boasts two massive arenas, The Club Room and The Terrace.
NORMAL ENTRY PRICE: €30 – €60
OCEANBEAT ENTRY PRICE: €30 before 02:00 (Mondays – COCOON); €25 before 01:30 (Tuesdays – TOGETHER); €25 before 01:30 (Wednesdays – STEVE AOKI); €20 before 02:00 (Thursdays – ABODE); €15 (Fridays – VGBND); €15 + FREE DRINK before 02:00 (Sundays – ESPUMA)
HOW TO GET THERE: Take a taxi from Ibiza Town or San Antonio for €10-15
PRIVILEGE
Defined by the Guinness Book of Records as the "world's biggest club", Privilege could fit all of Ibiza's other clubs inside it. A monumental maximum capacity of 10,000 is something to be witnessed by all of Ibiza's well-seasoned clubbers. You can spend hours exploring layer upon layer of balconies, terraces and cavernous rooms.
Located in the centre of the island, you can stand under the structurally unique observatory and admire the silk-spun lights of Ibiza's old town in the distance.
NORMAL ENTRY PRICE: €30 – €60
OCEANBEAT ENTY PRICE: FREE (Wednesdays), €20 (Saturdays), €15 (Sundays)
HOW TO GET THERE: Take a taxi from Ibiza Town or San Antonio for €10-15
ES PARADIS
You wouldn't necessarily expect a glamorous secret garden to be concealed in the depths of San Antonio: then you find Es Paradis. As the name claims, there certainly is a "paradise" feeling to this club, with its Greek columns and flowering vines. It's most popular for parties that insinuate an elapse from the ordinary like FIESTA DEL AGUA and GLOW PAINT PARTY.
NORMAL ENTRY PRICE: €20 – €45
OCEANBEAT ENRY PRICE: FREE before 01:00 every night
HOW TO GET THERE: Located centrally in San Antonio, it can be reached by foot from your San Antonio accommodation; taxis cost €20 – €25 from Ibiza Town or Playa d'en Bossa
USHUAIA
A new gem, Ushuaia recently opened in 2011 and attracts thousands every night for its meticulously elaborate shows. Expect to have your jaw dropped by the sheer amount of deep colours, striking lights and sounds blasted at you. No party lacks flamingo-preening dancers or a gaudy atmosphere.
NORMAL ENTRY PRICE: €40 – €70
OCEANBEAT ENTRY PRICE: FREE 17:00 – 18:00 (Wednesdays – DANCE OR DIE); FREE before 16:00 (Saturdays – ANTS)
HOW TO GET THERE: Located in the heart of Playa d'en Bossa, taxis cost €25 from San Antonio and €10 from Ibiza Town. Disco buses also run along these routes.
HEART
A timeless favourite calling hedonists from all over the world, HEART is a pleasure dome next to Ibiza's lustrous port. HEART doles out immaculate gastronomy as well as superstar acts in the clubbing area. Bob Sinclair and Bedouin always fill the club to the brim.
NORMAL ENTRY PRICE: €30 – €50
OCEANBEAT ENTRY PRICE: FREE before 01:00 every night
HOW TO GET THERE: Taxis cost €10 from Ibiza Town; €15 from Plaa d'en Bossa; €30 from San Antonio
SWAG
Swag gives indispensable power to urban music n this vastly electronic-music-dominated island. It has Ibiza's ull attention for being the primary hip-hop clubbing destination and has gone through the roof in popularity in recent years. You can shake your booty here any night of the week for free if you choose OCEANBEAT.
NORMAL ENTRY PRICE: €25 – €35
OCEANBEAT ENTRY PRICE: FREE before 01:00 every night inc.. BAD GIRLS CLUB on Wednesdays
HOW TO GET THERE: In the centre of Playa d'en Bossa, take a taxi from Ibiza Town for €10 or jump on a disco bus for €3
You made it to here? Good job on wading through all of our club deals – there are a lot! Clubbing can be complex but with this guide it doesn't have to be. Other club deals include:
• EDEN (free before 01:00 Mondays)
• O BEACH (free before 13:30 Wednesdays and Thursdays)
• HARD ROCK – CHILDREN OF THE 80S (free before 21:00 Fridays)
• BLUE MARLIN (free before 2:00 Fridays + 1 free drink)